Craig James (pictured), the former NFL star who unsuccessfully ran in the Texas GOP Primary for U.S. Senate last year, has been fired from his short-lived job as a Fox Sports pundit after video emerged of him making anti-gay comments during his campaign bid.
Via The Daily Mail: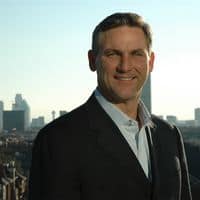 The 52-year-old former ESPN sportscaster, who was only hired by rival Fox a month ago, told the debate that being gay "is a choice" and that people who "choose to do that" will "have to answer to the Lord for their actions."
The comments, which drew hearty applause from the audience, left Fox bosses with little choice but to cancel his contract "with immediate effect."
"Craig James will not be making any further appearances on Fox Sports Southwest's football coverage this season," a Fox Sports spokesperson told Sports Illustrated.
Another Fox spokesman told the Dallas Morning News: "We just asked ourselves how Craig's statements would play in our human resources department. He couldn't say those things here."
Towleroad readers may remember the 2012 Texas GOP Senate Primary being filled with candidates desperately vying for the title of "Biggest Homophobe."
Watch, AFTER THE JUMP… 
Previously, "GOP Texas Senate Candidate Tom Leppert Says He Was Doing the Work of Jesus When he Marched in Gay Pride as Mayor" [tlrd]