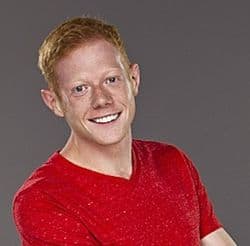 Add another name to the list of 'Big Brother' contestants rebuked by their real-world employers as a direct result of gameplay and gametalk in this season's house. On Friday, the College of DuPage distanced themselves from openly gay contestant Andy Herren, stating in a Facebook post that he is no longer working for them and is now unemployed. From the post:
"Andy Herren has formerly worked for College of DuPage as a part-time instructor. He does not currently work for the College. Any behavior or language he uses on the CBS reality show "Big Brother" does not represent the opinions or values of College of DuPage."
Although certainly one of the less offensive houseguests this summer (which isn't saying much), Andy nonetheless participated in many of the controversial conversations that made this season so newsworthy. Last week, Andy vocally agreed with finalist GinaMarie that many of the evicted houseguests were "robotic biracials."
Now, all three of this season's finalists have been publicly admonished by their employers for in-game behavior and words. Back in July, GinaMarie Zimmerman was fired from her job as a New York pageant coordinator for her racist comments made against black and Asian-American contestants. Spencer Clawson, who serves as a railroad conductor for Union Pacific, was also denounced by his employer earlier this season for his homophobic and pro-Hitler remarks on the show.
Because the season is still ongoing, all three remain blissfully unaware of any controversies or firings. That all changes this Wednesday during the live finale.