Gwyneth Paltrow is producing a Broadway musical, Showbiz 411's Roger Friedman reports: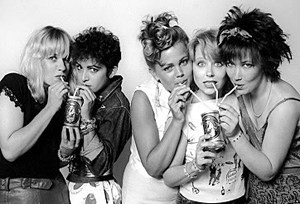 The show is based on the music of the GoGo's, the California New Wave girl group of the early 1980s. Paltrow's partner in the endeavor is Donovan Leitch, son of the 60s rock and folk icon Donovan, of "Mellow Yellow" and 'Sunshine Superman" fame.
The pair have enlisted Jeff Whitty of "Avenue Q" fame to write the book, and I'm told it's almost done. The GoGos' iconic hits included "We Got the Beat" and "Our Lips Are Sealed." I'm told the idea is for a jukebox show with a twist– it will be set in the 1600s and based on surprising source material that can't be revealed yet.