Another New Mexico County says it will begin issuing marriage licenses to same-sex couples, the AP reports: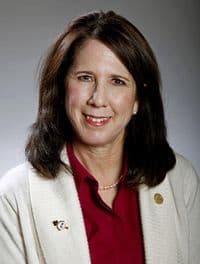 Grant County Clerk Robert Zamarripa said his office will comply with a judge's ruling issued Tuesday and will begin providing the licenses next week.
"We'll let the Legislature and courts decide after this what needs to be done," Zamarripa said in a telephone interview.
His comments came shortly after District Judge J.C. Robinson issued an order requiring the clerk to issue marriage licenses "on a nondiscriminatory basis" to same-sex couples.
Meanwhile, Los Alamos County Clerk Sharon Stover (pictured) is resisting the order:
Stover is to appear in state district court Wednesday. She's asking Judge Sheri Raphaelson to put a gay marriage lawsuit on hold until the issue is resolved by the state Supreme Court in another case.
A same-sex couple from Los Alamos County, Janet Newton and Maria Thibodeau, filed a lawsuit last week after being denied a marriage license. Raphaelson ordered the clerk to issue the couple a marriage license or appear in court to explain why that shouldn't happen.
Stover said in a statement she denied the license based on "actual language" in state law.
State statutes contain references to "husband" and "wife," and include a marriage license application that has sections for male and female applicants.