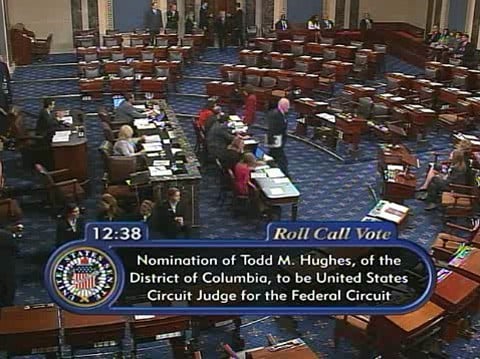 The Senate has unanimously confirmed Justice Department attorney Todd M. Hughes for the U.S. Court of Appeals for the Federal Circuit Tuesday, making him the first openly gay federal appeals court judge in U.S. history. Hughes was nominated by President Obama on February 7.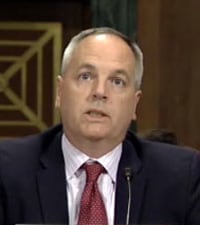 The Washington Post reported earlier:
Geovette Washington, who is the Office of Management and Budget's general counsel and has been friends with Hughes since they attended law school together, described him as "a problem solver" who "can do very complicated constitutional issues," but also brings a degree of pragmatism to cases.
"I have always been amazed by how intelligent he is, but also how practical he is," she said, adding that Hughes is well prepared for the Federal Circuit because he's appeared before it so many times. "He's dug in and done the hard work on those issues."
Washington, who bonded with Hughes during Duke basketball games, said he has always been open about his sexual orientation but has not been defined by it. "I wouldn't call him an activist," she said. "It's part of who he is."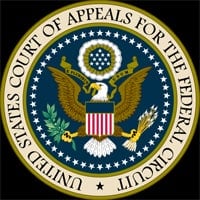 Beckground on Hughes, via the White House:
Todd M. Hughes is Deputy Director of the Commercial Litigation Branch of the Civil Division at the United States Department of Justice, a position he has held since 2007.  He also has served as an adjunct lecturer in law with the Cleveland-Marshall College of Law and as an instructor for Duke University's writing program. 

Hughes received his A.B. from Harvard College in 1989 and completed a joint degree program with Duke University, earning both his J.D. with honors and his M.A. in English in 1992.  After graduating from law school, Hughes clerked for the Honorable Robert B. Krupansky of the United States Court of Appeals for the Sixth Circuit.  In 1994, he joined the Commercial Litigation Branch as a trial attorney.  Five years later, he was appointed to be Assistant Director for Commercial Litigation, a role he held until assuming the title of Deputy Director in 2007.  Throughout his career with the Department of Justice, Hughes's practice has been devoted to matters of federal personnel law, veterans' benefits, international trade, government contracts, and jurisdictional issues regarding the United States Court of Federal Claims.  He has extensive experience before the United States Court of Appeals for the Federal Circuit, the United States Court of International Trade, and the United States Court of Federal Claims, and he has garnered a number of special commendations from the Department of Justice and a special contribution award from the Department of Veterans Affairs.
Six of the seven openly gay district court judges now serving were appointed by President Obama. The seventh, Deborah Batts in New York's Southern District, achieved senior status in April 2012.
Thirteen of Obama's judicial nominees are still pending on the floor — two circuit court nominees (D.C. Circuit) and 11 district court nominees (all have been approved unanimously in committee).
Among the pending nominees are nine women and four African-Americans.
In addition to the Hughes historic confirmation, Debra Brown would be
the first African-American district judge in the Northern District of
Mississippi; and Landya McCafferty, Susan Watters, and Elizabeth Wolford
each would be the first female district judges in their districts (New
Hampshire, Montana, and Western District of New York, respectively).
UPDATE: The White House blog noted Hughes' appointment with a special post on Obama's judicial nominees.