At the end of August, I had the honor of attending and speaking on a panel at the annual conference of the LGBT Bar Association. The conference, quaintly called "Lavender Law," is a well-attended event, bringing together students, practitioners, scholars and many people like you interested in legal issues facing the LGBT community.
This year's conference was pretty special. James Esseks, LGBT Project Director at the ACLU and one of Edie Windsor's attorneys, received an honor. That alone is notable and fantastic. James, a friend, a man I admire and great lawyer, deserves accolades for his great success. But, with all due respect to James, he wasn't the star of the show.
That honor goes to Scott Schoettes, the HIV Project Director at Lambda Legal (right).
Scott spoke during a prime session on the second day of the conference; everyone was there. What his panel was about is really irrelevant. Scott took the opportunity to ably and dramatically issue a call for the LGBT community to once again come together to fight the spread of HIV, the stigmatization associated with criminalizing HIV and other HIV-related issues that may not solely touch the gay community, but still plague our friends, neighbors and kinsmen. His comments, available in full at Lambda's website, lamented the fact that too many of us are willing to forget about HIV to win more pressing battles. He expressed legitimate frustration that the very coalition charged with raising LGBT legal and social issues — the National LGBT Bar Association — rejected every HIV-related panel proposed to it for this year's Lavender Law. He charged us to never forget the most vulnerable among us because they need our help the most.
Scott spoke truth to power and for that he deserves more than an award; he deserves our respect.
Follow me AFTER THE JUMP to learn more about Scott's speech and how you can get involved.
CONTINUED, AFTER THE JUMP…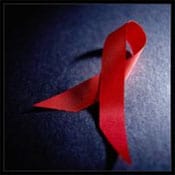 Our community has made great strides lately. We destroyed DOMA. Same-sex couples are able to marry in 13 states: California, Connecticut, Delaware, Iowa, Maine, Maryland, Massachusetts, Minnesota, New Hampshire, New York, Rhode Island, Vermont, and Washington, as well as the District of Columbia. New Mexico is slowly, county-by-county coming around, as well (more on that in a future post). We have passed anti-bullying legislation, anti-harassment legislation, anti-employment discrimination and banned harmful ex-gay therapy in several states.
But where are we with HIV? As Scott noted, "Gay and bisexual men recently accounted for 63% of all new HIV infections and perhaps most concerning is the 22% increase among those between 13 and 24 years old. Each day, more than eighty gay and bisexual men become infected with HIV in the United States." These trends are worse in communities of color and, especially, among transgender individuals, where "28% of transgender women are HIV positive in the United States, with rates over 50% for African American transgender women."
Our community used to be galvanized around ending these types of statistics. Granted, the AIDS Crisis in cities like New York, San Francisco and Los Angeles in the mid to late 1980s and early 1990s gave us scarier numbers. But these rates are worrisome enough that something must be done. Plus, we are still dealing with HIV-related stigmatization that, if anything, has gotten worse over the years. And most American jurisdictions treat HIV-positive individuals as presumptive criminals.
We are doing too little about it.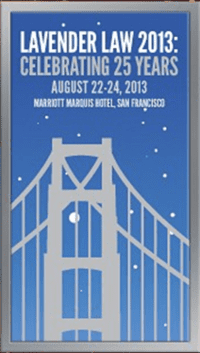 Here was Scott's "come to Jesus moment":
Lavender Law has not been immune to the phenomenon [of neglecting HIV for hotter topics]; not able, perhaps, like a large swath of the more privileged members of the LGBT community, to resist the quite natural desire to "disown" HIV/AIDS as a health crisis centered in our own community; and that has, like many of the LGBT organizations who signed on to [a joint] statement [on HIV/AIDS]—not to mention the ones that did not—been sometimes just a little too willing, it seems, to let others take the lead in the battles that remain to be fought on behalf of those living with and affected by HIV.
So while I am here today to talk about the past 25 years of Lavender Law in relation to HIV/AIDS—and to celebrate the many successes that we have had in the fight against this disease and, in particular, that this legal community has achieved in reducing the stigma, inequality and social injustice that fuels this epidemic—I am also here to issue a challenge, a challenge to the leadership and the membership of this organization, as well as the legal community more broadly, to re-engage on this issue and to re-focus some of its tremendous energy and formidable capabilities on doing what we can to help end the epidemic that continues within our community, right here in these United States.
Over the years, HIV and AIDS went from being the center of our focus to being "all but invisible," Scott said. Lavender Law doesn't talk about it. Our leaders don't talk about it. George W. Bush, for all his flaws, gave more oxygen to the AIDS epidemic than the leaders of our major gay rights organizations like the Human Rights Campaign and GLAAD.
It makes sense that our priorities would shift. But it doesn't make sense that we would leave our brothers and sisters behind.
Why did this happen?
In discussions with Scott and activists like Peter Staley (of How to Survive a Plague fame) and Sean Strub of the Sero Project, I think there are several justifications for the lack of focus on HIV: HIV fatigue (for years, that's all we talked about), the need to reach a younger donor base (young people did not live through the AIDS Crisis), more pressing matters of great import (marriage, employment discrimination, etc) or the feeling that we have done our part (lawyers got HIV-positive status included in disability laws).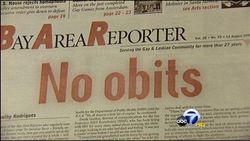 Or maybe we don't think it's our problem anymore. Scott reminded us of Andrew Sullivan's article in the New York Times entitled, "When Plagues End," which some activists feel was the breaking point. When the Bay Area Reporter was finally able to print a headline, "No Obits," HIV and AIDS stopped being a "gay" disease. It became a black disease, a poor person's disease, an African disease.
None of these justifications are legitimate, and Scott showed us why at Lavender Law.
HIV Fatigue: I'm sorry you're tired of hearing about HIV. But your ears are SOL when "one in five gay and bisexual men are living with HIV, and of the people living with HIV, 1 in 5 do not know they are infected." As Scott said, "Not talking about it is still not an option."
Younger People: Millennials, like all other people, will care about the issues we persuade them to care about. We are a discriminating audience, indeed, looking for the next hot topic and distracted by this or that text message. But we aren't vapid. Our leaders should not give up on talking about HIV because they find it hard to reach us; do better at reaching us!
The work is done: False. We only recently ended the HIV travel ban. We only recently stopped segregating HIV-positive prisoners. We still have HIV-positive individuals with undetectable viral loads and no STIs going to jail for having protected sex with another person. We still have laws that stigmatize HIV-positive individuals are presumptive criticisms. We still have work to do.
It's not our problem: At best, this reflects our desire to focus on making social gains in a positive political environment. At work, it smacks of racism and callousness. HIV may not only affect LGBT populations, but it does in overwhelming numbers. And even if that were not the case, even if young black gay men were not getting infected all too frequently, the shift to more vulnerable victims does not excuse us from the responsibility to help.
Scott challenged us to remember the vulnerable, to remember that we are still in this fight, to remember that we are victimized by a disease that casts our community as deviant. Visit the website of the HIV Project at Lambda to learn about some of these issues, contact them if you have a problem and learn how you can get involved.
***
Follow me on Twitter: @ariezrawaldman
Ari Ezra Waldman is the Associate Director of the Institute for Information Law and Policy and a professor at New York Law School and is concurrently getting his PhD at Columbia University in New York City. He is a 2002 graduate of Harvard College and a 2005 graduate of Harvard Law School. Ari writes weekly posts on law and various LGBT issues.