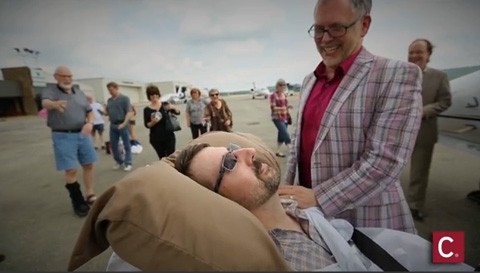 Federal Judge Timothy Black, who is facing the threat of impeachment from conservative Republican lawmakers in Ohio, yesterday expanded a lawsuit challenging Ohio's ban on same-sex marriage, the AP reports:
A lawsuit seeking to have the marriages of two gay couples recognized on death certificates has been expanded to include all similarly situated couples in Ohio, despite a statewide gay marriage ban.
Attorneys are asking a federal judge to require Ohio's health department to order all funeral directors and coroners in the state to list gay clients as married if they were legally wed in other states.
Judge Timothy Black approved a request to expand the lawsuit Wednesday.
John Arthur and Jim Obergefell originally filed the suit after chartering a plane to Maryland where they were married on the airport tarmac. Arthur is terminally-ill with ALS, also known as Lou Gehrig's disease.
Earlier this week, Ohio state Rep. John Becker threatened Black with impeachment for "malfeasance and abuse of power" and is calling on Rep. Brad Wenstrup (R-OH) to start the proceedings.