Oklahoma Governor Mary Fallin has ordered the state's National Guard to stop processing military benefits for same-sex couples, the AP reports. Last month, the Pentagon issued new orders offering partner benefits to troops with same-sex spouses.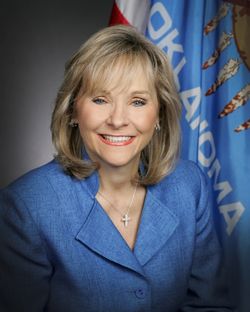 Fallin spokesman Alex Weintz told The Associated Press on Tuesday that the governor was following the wish of Oklahoma voters, who approved a constitutional amendment that prohibits giving benefits of marriage to gay couples.
Because of that prohibition, Weintz said the governor's legal staff advised the Oklahoma National Guard not to process requests for benefits from gay couples.
With the order, Fallin has joined Texas, Misssissippi and Louisiana in refusing to comply with the order and process the spousal benefits, based on state laws banning same-sex marriage. Yesterday, we reported that Florida is also deciding whether to comply with the Pentagon order.
The American Military Partner Association (AMPA), the nation's premier resource and support network for LGBT military families. released a statement in response:
"Since the governor of Oklahoma has decided to join Texas, Mississippi, and Louisiana in playing politics with our military families, we need immediate and decisive action from the Administration and the Defense Department in affirming that all military spouses, regardless of sexual orientation, will be treated equally. Our military families should not be left vulnerable to the prejudice of state governors, and the Defense Department must use it's control of federal funds to stop this discrimination."