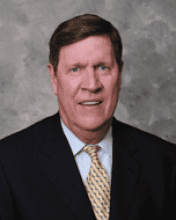 Pennsylvania Governor Tom Corbett has brought in outside help to defend the state's ban on same-sex marriage in a federal lawsuit, the AP reports:
Corbett's Office of General Counsel said Thursday that West Chester lawyer Bill Lamb (pictured), a former Supreme Court justice, was hired to be lead counsel at a rate of $400 an hour. His associates will be paid $325 an hour.
The case filed two months ago seeks to overturn the 1996 ban on same-sex marriage. Pennsylvania is the only northwestern state that doesn't allow gay marriage or have a system of civil unions.
Attorney General Kathleen Kane has said she won't defend the law because it's unconstitutional.
Pennsylvania's response in the case is due September 16.