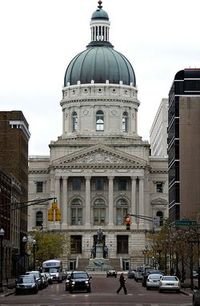 As Indiana Republican state legislators caucus today to discuss an expected vote on a gay marriage constitutional ban next year, some welcome news arrives in the form of a new poll showing two-thirds of Hoosiers are against the proposal. The Journal Gazette reports:
By 64 percent to 36 percent, voters say amending the Indiana Constitution is not the right way to deal with same sex marriage. 
A slight plurality – 46 percent to 43 percent – oppose the amendment.
For comparison, an April 2013 statewide survey by the same polling company showed voters were similarly divided, but with 46 percent in support. 
"The message from these results is clear: Hoosiers overwhelmingly support some legal recognition for same-sex couples, and they oppose amending the Indiana Constitution to address the issue of same-sex marriage and rights," said Freedom Indiana campaign manager Megan Robertson.
The poll found almost three-fourths of Hoosiers believe there should be some legal recognition or rights for gay and lesbian couples. 
Hoosiers also have deep concerns about the second sentence of the amendment, which would strip additional legal rights from unmarried couples, a press release said.
More than half of respondents would vote against the amendment after finding out that it bans civil unions and might have other consequences.
Indiana's General Assembly already overwhelmingly approved the constitutional amendment back in 2011. If approved by lawmakers for the second time, it would go to voters for a final say in November 2014.