Pope Francis has given a wide-ranging interview to America magazine in which he gives his most extensive remarks to date on the role of the church with regard to homosexuality, as well as abortion and contraception.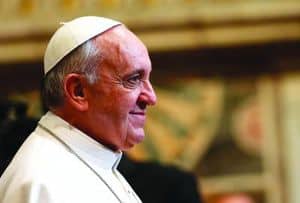 Says Francis:
"We need to proclaim the Gospel on every street corner," the pope says, "preaching the good news of the kingdom and healing, even with our preaching, every kind of disease and wound. In Buenos Aires I used to receive letters from homosexual persons who are 'socially wounded' because they tell me that they feel like the church has always condemned them. But the church does not want to do this. During the return flight from Rio de Janeiro I said that if a homosexual person is of good will and is in search of God, I am no one to judge. By saying this, I said what the catechism says. Religion has the right to express its opinion in the service of the people, but God in creation has set us free: it is not possible to interfere spiritually in the life of a person.
"A person once asked me, in a provocative manner, if I approved of homosexuality. I replied with another question: 'Tell me: when God looks at a gay person, does he endorse the existence of this person with love, or reject and condemn this person?' We must always consider the person. Here we enter into the mystery of the human being. In life, God accompanies persons, and we must accompany them, starting from their situation. It is necessary to accompany them with mercy. When that happens, the Holy Spirit inspires the priest to say the right thing.
He later adds that the Catholic Church needs to end its obsession with abortion and gay marriage:
"We cannot insist only on issues related to abortion, gay marriage and the use of contraceptive methods. This is not possible. I have not spoken much about these things, and I was reprimanded for that. But when we speak about these issues, we have to talk about them in a context. The teaching of the church, for that matter, is clear and I am a son of the church, but it is not necessary to talk about these issues all the time.