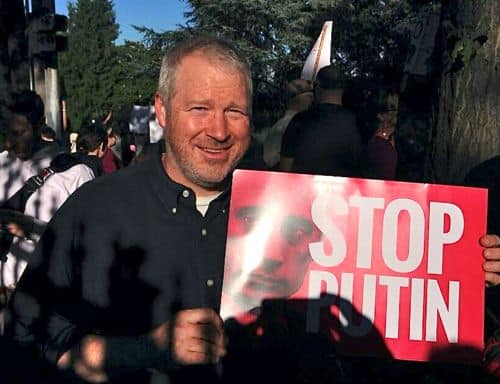 (photo by dan savage)
Seattle Mayor Mike McGinn has raised the ire of Russian Consul General after photos surfaced of McGinn holding a "Stop Putin" sign at a protest outside the C.G.'s residence against Russia's recently instated anti-gay laws. McGinn was joined by around 250 protesters, including activist, author, and columnist Dan Savage who took one of the offending photos.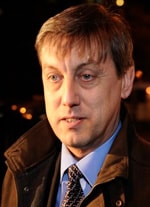 Russian Consul General Andrey Yushmanov criticized what he saw as the "misleading" action of the mayor, saying, "personally, to portray the president of Russia, Mr. Vladimir Putin, in such a way is absolutley unjustified."
In a letter to the Mayor, Yushmanov asked the mayor if he "could clarify the official position of the authorities of Seattle".
McGinn defended his actions in a letter to Yushmanov, saying, "I find it paramount to support Seattle's values, and to stand with human rights activists as they do the same."
As for whether McGinn's action reflect the official position of the authorities of Seattle, The Stranger reports that "McGinn's office said the Seattle City Council refused to take a position against the anti-gay laws.
"We inquired with the Council President [Sally Clark] to see if the Council would support a joint resolution expressing the City of Seattle's official position regarding anti-LGBT laws in Russia," says mayoral spokesman Robert Cruickshank. "She declined." Speaking for Clark, council spokeswoman Dana Robinson-Slote explained that the council declined because they were not part of the protest, and they considered it "off-topic" because it did not "directly relate to city work."
In an update to their original article, The Stranger notes that the city has taken stances on issues that didn't "directly relate to city work" before, like when they voted in favour of ending the Iraq war, denounced the government of Burma, and askedfor the release of Nelson Mandela, to name just a few.