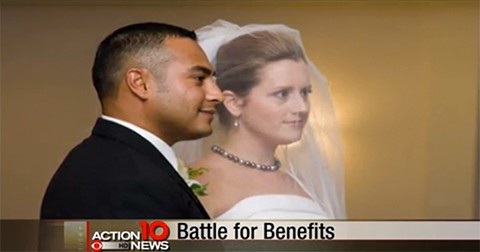 In what it terms a "bizarre case," KZTV10.com reports on a legal challenge to Texas's ban on same-sex marriage. The case, set to be reviewed in Nueces County court today, centers on a transgender woman, Nikki Araguz, and her fight for benefits and inheritance following her husband's death in 2010. Araguz's challenge follows a 2011 ruling that invalidated her marriage on the basis that she was born a man, thus preventing her from inheriting her husband's estate:
"When my husband died. Suddenly they said, 'well, wait a minute your marriage doesn't count.' And I find that difficult to swallow," says Nikki […]
Nikki married Thomas Araguz in 2008. She was born as Justin Graham Purdue but underwent a sex change before she met Thomas.
Two years into their marriage he died while working as a firefighter […]
If a judge rules the marriage is valid, she could be entitled to an estate worth more than $600,000. If not, Thomas' first wife could inherit his estate.
The attorneys representing Thomas' estate have said should they lose their case they will fight Nikki all the way to the U.S. Supreme Court in an effort to "protect his estate."
Nikki is currently engaged again and was recently denied a marriage license by Harris County in Texas because her original birth certificate listed her gender as male despite the fact that she has since had her birth certificate amended to reflect her sex change.
Watch a news report on Nikki's court case and her attempt to get a new marriage license (warning: autoplay) AFTER THE JUMP…