American anti-gay evangelist Scott Lively, who is on trial for crimes against humanity, and who we've written about many times on this site, sat down with NBC News for an interview about Russia's anti-gay laws.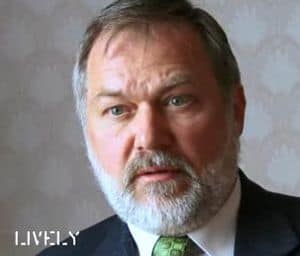 He takes credit for them:
"Yes, I think I influenced the Russian law," Lively said. While some gay rights activists still think he's just a laughingstock, Boris Dittrich, the director of LGBT advocacy for Human Rights Watch, tends to confirm Lively's claims. Russia was plenty homophobic before Lively's arrival but the American pastor appears to have given shape to that free-floating hatred, Dittrich said. As he passed through Russia's regions, Lively met with politicians and bans on homosexual propaganda followed, spreading to more than a half-dozen areas before Putin swept them into a national standard.
Lively — who calls himself the "father" of Uganda's anti-gay movement — also shared the first sharp details of his work in Eastern Europe and responded to the rise in hate crimes that seems to follow him around the globe.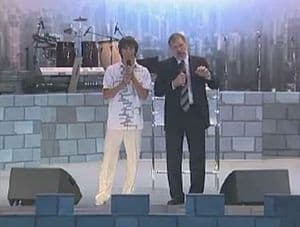 NBC posted two clips of Lively speaking at a Watchment on the Walls conference in Novobsibirsk, Russia's third-largest city, in August 2007 where he spoke to 1,000 Christians:
"There is a war that is going on in the world," Lively said through a translator. "There is a war that is waging across the entire face of the globe. It's been waging in the United States for decades, and it's been waging in Europe for decades. It's a war between Christians and homosexuals."
NBC goes on to describe Lively's other anti-gay crusades abroad, and the lawsuit that could put a halt to them:
Pamela Spees, an attorney with the Center for Constitutional Rights, the group pursuing Lively for alleged "crimes against humanity" in Uganda, said she is prepared to file a second lawsuit related to his work in Russia and the surrounding countries, assuming there's evidence that Lively was "an architect of the persecutory program" there.
And that's why the case against Lively is so important, gay-rights activists say. As the Olympics draw nearer and the boycotts and homophobic backlash continue, Putin will be the guy paraded down the world's front pages and social media feeds. But Lively may be the secret agent to watch.
If he loses his lawsuit he could be prohibited from spreading his message abroad, a terrible precedent for other anti-gay crusaders. However if he wins, he emerges stronger than ever, the self-described "hero" of an expanding fight to restore "godliness to society," as he puts it – or else "pull as many people as possible into the lifeboat before the ship goes down."
Watch, AFTER THE JUMP….
Visit NBCNews.com for breaking news, world news, and news about the economy
Visit NBCNews.com for breaking news, world news, and news about the economy