You may remember gay rights activist Clement Meric, who was killed in an attack by skinheads after an exchange of words and punched unconscious in early June.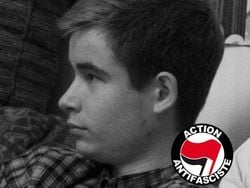 A second man has now been charged in the attack, the Local reports:
Samuel Dufour, a 19-year-old far-right extremist, has been charged with violence leading to the death of Méric, but without the intention of killing him, according to judicial sources quoted by French radio RTL on Tuesday.
Investigators had previously suspected Esteban Morillo, another far-right extremist, of being solely responsible for landing the fatal blow on Méric during the brawl at Rue Caumartin on June 5th.
However, further examination of Méric's autopsy report led them to conclude that a pattern of blows to the 18-year-old anti-fascist activist's nose and cheeks implied the involvement of a second party.
RTL reports that rings worn by Dufour during the fight had matched imprints on Méric's face.