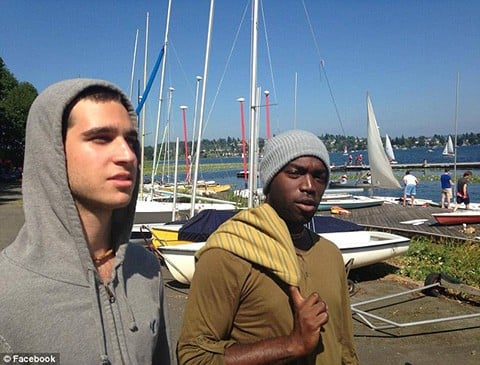 Vanna White's son, Nikko, is dating and living with a Hare Krisha fifteen years his senior, The Daily Mail Reports. Nikko, 19, met Jaycee Akinsanya, 34, at The University of Arizona where they both are currently students:
'Jaycee and I have a special relationship,' Nikko told the National
Enquirer. 'It's the closest I've ever been with anyone. It's just
spiritual and wonderful and there is chemistry – and if there's sex
also, so be it. It doesn't matter!'
He also revealed that Jaycee has already met with both his mom Vanna and his father, the restaurant mogul George Santo Pietro.
Both
Nikko and Jaycee described the meeting as a success, although they
slept in separate rooms while staying with them in Los Angeles.
Despite the apparently amicable meet and greet, Nikko's relationship with Jaycee, who originally hails from Liberia, has reportedly concerned Vanna and ex-husband George. Vanna allegedly fears Nikko may become brainwashed by the Hare Krishna or used to gain access to his parents' considerable assets. Vanna is worth approximately $40 million and George is said to be worth over $20 million. Reports have also circulated that Nikko asked his mother for $1 million to build an ashram for Hare Krishna followers, a claim Nikko denies:
Nikko told the Enquirer that he did not ask his parents for $1million to build an ashram. He added: 'The money I asked for was for my living expenses – food, gas and for living my spiritual life with Jaycee.'
Though open about his relationship with Jaycee, Nikko does not currently self-identify as gay. He does however have an open mind when it comes to understanding and defining his sexuality:
Nikko described his relationship with Jaycee as 'close' but not 'sexual in the full sense.' He said he remains 'undecided' about this sexual orientation.
'I have had one girlfriend and never had a real boyfriend. We are just happy to be together, loving each other in whatever way possible,' he said. 'Gay? It's possible.'
(Photo via The Daily Mail and Facebook)