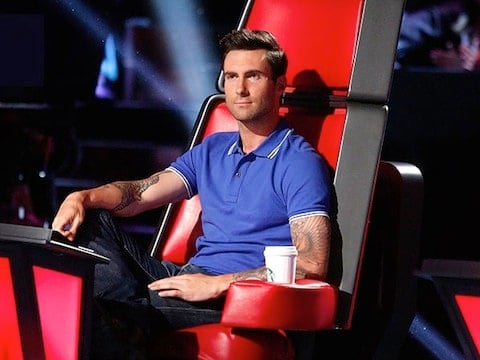 As the TV season gets into full swing, check out our new weekly guide to make sure you're catching the big premieres, crucial episodes and the stuff you won't admit you watch when no one's looking.
— Christina Aguilera and Cee Lo Green return alongside Adam Levine and Blake Shelton for the fifth season of The Voice, tonight at 8 p.m. Eastern on NBC. 
More picks and previews, AFTER THE JUMP…
— One of fall's most promising new shows, The Blacklist, starring James Spader, premieres tonight at 10 p.m. Eastern on NBC. If you prefer your thrillers with more of a political edge, Toni Collette and Dylan McDermott star in the tense new show Hostages, premiering on CBS, also at 10 p.m. Eastern.
— Joss Whedon's Avengers television spin-off, Marvel's Agents of S.H.I.E.L.D., premieres Tuesday at 8 p.m. Eastern on ABC. 
— Take a trip back to the '80s with The Goldbergs, a sitcom focusing on the titular family, headed by overprotective mother, Beverly (Wendi McLendon-Covey), and gruff dad, Murray (Jeff Garlin). It premieres Tuesday at 9 p.m. Eastern on ABC.
— Will Cam and Mitch tie the knot this season on Modern Family? Find out when it returns Wednesday at 9 p.m. Eastern on ABC.
— Thursday's a big night for returning series, including Amy Poehler's brilliant workplace comedy Parks and Recreation (8 p.m. Eastern, NBC), soapy medical drama Grey's Anatomy (9 p.m. Eastern, ABC), musical comedy Glee (9 p.m. Eastern, FOX), and the introduction of Amber Tamblyn's lesbian character on Two and a Half Men (9:30 p.m. Eastern on CBS).
— Michael J. Fox returns to television in (the appropriately titled) The Michael J. Fox Show, premiering Thursday at 9 p.m. Eastern on NBC.
— You'll want to be glued to Showtime on Sunday as Homeland returns at 9 p.m. Eastern, and the buzzy Masters of Sex, starring Michael Sheen and Lizzy Caplan, makes it debut at 10 p.m. Eastern.