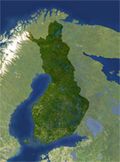 After collecting more signatures than any citizen-backed initiative to date, a petition calling on Finland's parliament to consider legalizing same-sex marriage looks set to be considered, YLE News reports:
A petition calling for the right to same-sex marriage in Finland has collected more than 162,000 signatures. The time allotted to gather names backing the civic initiative ends on Thursday. Organisers had hoped to attract a quarter-million names.
Parliament must consider any such petition that garners at least 50,000 certified adult signatures in this nation of 5.4 million. The "Tahdon2013" ("I Do") campaign surpassed that number on its first day last March.