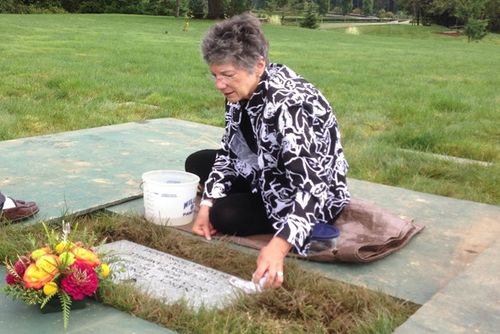 In the wake of the Supreme Court's June decision invalidating Section 3 of the Defense of Marriage Act, thousands of same-sex couples across the United States have gained access to the full panoply of federal marriage benefits.  Tragically, though, for some couples, that relief came just a little too late.  Linda Campbell and Nancy Lynchild of Portland, Oregon were one of those couples.
Nancy passed away in December 2012 after a 12-year fight against metastatic breast cancer, and although she and her wife Linda had wed in Canada in 2010, they were considered unmarried by the federal government.  That meant that despite the lifetime of service Linda had given to the U.S. Air Force, Nancy was ineligible for the medical care that different-sex spouses of veterans are able to access.  Even more importantly for Linda, it meant that her wife would not be allowed a burial in Willamette National Cemetery, the same cemetery where her father–an Army veteran–and mother had been laid to rest.
But thanks to Linda's tenacity and sense of justice, Nancy now holds a small but significant place in history of LGBT rights in the United States.  During the course of Nancy's battle against cancer, Campbell requested a waiver to the prohibition on burying same-sex spouses in military cemeteries from Eric Shinseki, the secretary of the Department of Veterans Affairs.  Brad Avakian, the commissioner of Oregon's Bureau of Labor and Industries, whose office handles civil rights discrimination claims, told the Oregonian last February that he had prepared a civil rights complaint against Shinseki and the cemetery, in case the request was denied.  "I never wanted to have to pull the trigger," Avakian told the newspaper.  "But I was ready to use every possible tool I had to make it happen."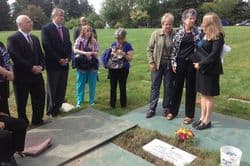 But Shinseki was granted the waiver in late January, and a VA mortuary official called Linda to schedule the burial.  Last week, Linda and several friends–including Avakian, his wife and Oregon Sen. Jeff Merkley, held a stone-setting ceremony for Nancy at Willamette.  Nancy's space in the cemetery is just two plots away from Linda's parents' spot.
To mark the stone-setting ceremony, Freedom to Marry has published a beautiful tribute to Linda and Nancy's relationship on their blog.  The post–well worth reading in full–tells the moving story of the women's life together, and Linda's experience watching the Supreme Court strike down DOMA after Nancy's passing.  In one very touching anecdote, Linda describes the way she came to know Edie Windsor:
Until December 2012, Linda wasn't that familiar with Edie Windsor's story – the story of how Edie fell in love with a woman, Thea Spyer, married her in Canada after over 40 years together, helped her through a years-long battle with multiple sclerosis, mourned her passing, and was then forced to pay $363,000 in estate taxes that she would not have had to pay if Thea were a man.

But in December 2012, Linda became very connected with Edie's story. That's when she and Nancy watched Edie and Thea: A Very Long Engagement, the 2009 documentary that chronicled Edie and Thea's life together.

"Edie and Thea reminded me so much of Nancy and me," Linda said. "The way they looked at each other. The way they loved each other. I could see in Edie's face the way she looked at Thea – I recognized the look that had surely been on my face when I looked at Nancy."

Nancy passed away just a few days after she and Linda watched A Very Long Engagement.

"It was the last movie we ever watched together," Linda said. "And after I lost Nancy, I watched that movie every night. That movie was the story of Edie and Thea – but in so many ways, it was the story of me and Nancy, too."
According to Freedom to Marry, Linda had the opportunity to watch a short segment of the oral arguments in Edie's case against the Defense of Marriage Act and watched Edie's speech outside the court.  Linda will meet her in a few months, on a cruise for which Edie is an honored guest.  "She is, to me, the hero of our time," Linda said of the New York octogenarian. "She had the courage to stand up, and she wouldn't let it go. And she won. She won for all of us. To shake her hand will be one of the great highlights of my life."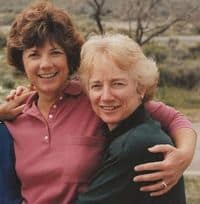 In 1995, Linda lived in Washington, D.C. for a month's time for a job tryout while Nancy remained at home in Oregon.  Every night, Linda would return home to a letter from Nancy–two on Monday, since the mail wasn't delivered on Sunday.  Linda shared a selection from Nancy's letters with Freedom to Marry for the organization's blog post.  Here are some of Nancy's words.
"My heart is warm today.  Wrapped in a thick, soft tapestry.  Blended from the sight of you, the sound of you, the touch of you."
"Come share this moment with me.  Close your eyes.  Feel the warm, friendly sun gently kiss your cheek. Breathe in slowly the dancing air.  Feel your body respond to the relaxing rightness of the day.  Now there are no boundaries of distance between us.  We are sharing a moment–in a perfect day.  A perfect day."
"You are the woman of my dreams.  Please hurry back to my reality as well."
"There are no boundaries.  There is no distance."
"I am with you always."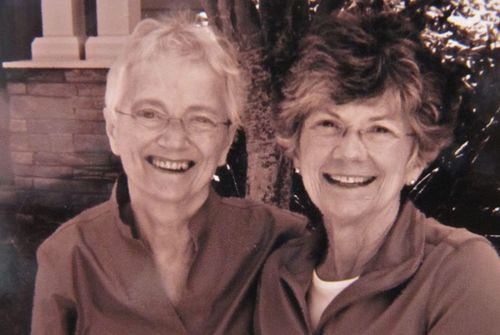 (all images courtesy of Freedom to Marry)