Lawyers for Elaine and Jonathan Huguenin (pictured), who refused to photograph the commitment ceremony of Vanessa Willock, a resident of Albuquerque, on the grounds that same-sex marriage conflicts with Christian beliefs, is taking her case to the Supreme Court.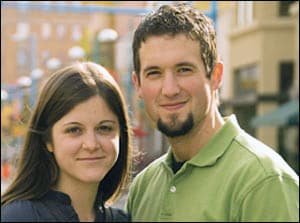 The New Mexico Supreme Court ruled that Elane Photography was violating the antidiscrimination provisions of the New Mexico Human Rights Act in August.
The couple, Elaine and Jonathan Huguenin, have summed up their views on the issue in this statement, excerpted from a legal brief in the state supreme court:
"Jonathan and Elaine are Christians, and as such, they believe the Bible's teaching that marriage is the union of a man and a woman.  They also believe that preserving marriage as the union of a man and a woman is 'the best way to order society.'  Thus while the company wants to create photographs that tell the stories of weddings between a 'bride and groom', its policies prohibit creating images that convey an understanding of marriage that conflicts with Jonathan and Elaine's beliefs.   Jonathan and Elaine believe that if they were to convey a contrary message about marriage, they would be disobeying God.
"Elane Photography does not refuse customers because of their sexual orientation.  Crucial to the company is the message conveyed through its photographs, not the sexual orientation of its customers. Therefore Elaine will not create photographs of heterosexual polygamous weddings just the same as she will not create photographs of same-sex ceremonies.  And she will decline to create photographs telling the story of a same-sex commitment ceremony even if the ceremony was part of a movie and the actors playing the same-sex couple were heterosexual.   On the other hand, Elaine will create portrait photographs for and provide other services to people who identify as homosexual so long as the message communicated through her pictures does not conflict with her beliefs about marriage."
Their planned petition to the Supreme Court will seek to convince the Justices that their photographic work is a form of artistic expression that conveys messages, and it will argue that enforcing the New Mexico "public accommodation" law in ways contrary to their views compels them to express messages they do not embrace and interferes with the free exercise of their religious beliefs.