Wrestling has been restored to the Olympics, the NYT reports: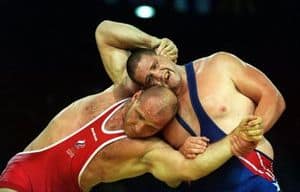 Chastened by calls to modernize its leadership and energize its matches, wrestling changed its rules, created more weight classes for women and easily prevailed over squash and a combined bid by baseball and softball.
Wrestling received 49 votes, compared with 24 for baseball/softball and 22 for squash in voting by delegates of the Olympic committee. The vote guaranteed that freestyle and Greco-Roman wrestling would be contested at least through the 2020 Summer Games in Tokyo and the 2024 Olympics, which have yet to be awarded.
Last February, in what was seen as a wake-up call, the 15-member executive board of the I.O.C. removed wrestling from the core sports of the Summer Games after the 2016 Rio Olympics.
If you'll remember, at the time Russian wrestling coach Vladimir Uruimagov blamed the sport's ejection from the Olympics on — you guessed it! Masculinity-hating gays.
"If they expel wrestling now, that means that gays will soon run the whole world," said Uruimagov, saying it was "a blow to masculine origins. Uruimagov added: "It turns out this committee is headed by representative of these [sexual] minorities."
Uruimagov added: "It is necessary for millions around the world who understand that this is a man's sport and who understand the need to continue the human race to go out and explain their position to the Olympic Committee. We should prove and explain that in any other case there is no future."