Gay 10-time British paralympic equestrian gold medalist Lee Pearson says he feels the need to go to Sochi and speak out against Russia's anti-gay laws.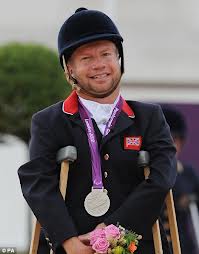 "I don't care if it means I go to prison," he tells the Mail on Sunday. "In some respects I hope I do because then the Prime Minister and my country would have to get involved and that would add to the embarrassment for Russia."
"Those calling for a boycott don't understand that the Olympics and Paralympics could be the one chance these sportsmen and women have to achieve their goals. Yes, they can be sympathetic towards our cause but their first goal must be to do their best. I say to Stephen, Rupert and all those backing a boycott that Sochi is going to happen whatever they say and they should join me so our collective message to Russia is stronger. It's much more powerful to be there than not…But the bigger reason for not boycotting Sochi is that you'd simply be putting your head in the sand. Isn't it much better to educate Russians and shed more light on the legislation both in Russia and worldwide? It is shocking. It's like Germany in the Thirties. We shouldn't ignore this."
Pearson also slammed the IOC:
"There is conflict with the Olympic Charter. Aren't the Olympics and Paralympics all about the coming together of the people of the world where race, creed and sexuality are of no matter? The eyes of the world are on the Olympics and Paralympics. It should be all about equality."
Yet the IOC can't say the word 'gay'.