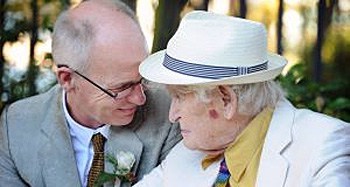 Cork, Ireland-born artist Patrick Scott married his companion of 37 years, 57-year-old Eric Pearce this week, the Irish Examiner reports:
A long-running love story culminated yesterday in the marriage of Cork-born artist Patrick Scott, at the ripe old age of 93, to 57-year-old Eric Pearce, his companion of 37 years. The two, whom Eric says met many years ago "in Dublin at a party, across a crowded room", wed in a civil ceremony at the registry office on Lower Grand Canal St.
Speaking to the Irish Examiner, Eric said there was a "deep, abiding love between them" and they had wanted to marry for some time.
On why they were doing it now in the autumn of Patrick's life, Eric said the union was a "completion of a life and a celebration of a life that has been intensely private, like the man himself."
Dubliner Pearce, who has three daughters by a previous marriage during which time he lived in Cork, said he had his children's full support.  "They are three wonderful women. They are so delighted for me. They regard it as a cause for celebration. I am very lucky to have such broadminded children" he said.
Congrats to the happy couple.
(via rukkle)