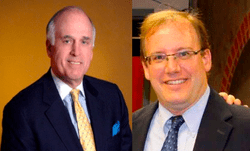 At a Tea Party Unity event this week, former Baptist pastor Rick Scarborough (left) was joined by Americans for Truth about Homosexuality president Peter LaBarbera (right) in a discussion about how to stop the growing tide of LGBT equality in the U.S. Their solution? File a class-action lawsuit against homosexuality just like when the attorney generals of 46 states filed a lawsuit against the big tobacco companies in 1998.
Listen, AFTER THE JUMP…
Any thoughts on who they'd name as the defendant in this hilariously asinine lawsuit?