As thousands of gay rights supporters rallied in Springfield yesterday in the hopes of pressuring hold-out members of the House to reconsider marriage equality legislation, a planned prayer vigil inside the city's largest Catholic church was squashed following a warning from the head of the Springfield Catholic Diocese that those wearing a rainbow sash would not be permitted in.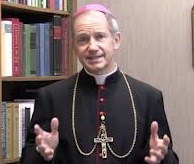 In a statement calling the plan "blasphemous," Bishop Thomas John Paprocki (pictured right) said that those praying the rosary for marriage equality would not be allowed to enter the church:
"It is blasphemy to show disrespect or irreverence to God or to something holy. Since Jesus clearly taught that marriage as created by God is a sacred institution between a man and a woman (see Mathew 19:4-6 and Mark 10:6-9), praying for same-sex marriage should be seen as blasphemous and as such will not be permitted in the cathedral," he wrote.
Rick Garcia, a longtime gay rights advocate and political director for The Civil Rights Agenda, blasted Paprocki's comments, saying they were in stark contrast to Pope Francis' recent call for the Catholic Church to work on becoming more inclusive.
"This is the first time in all of my years of coming here that I see police officers in front of this church…" Garcia said. "It angers me because I'm a life-long Catholic. That a bishop would say this about me or my people is outrageous."
Meanwhile, the fate of the marriage equality legislation appears to still be up in the air, according to The Southern Illinoisan: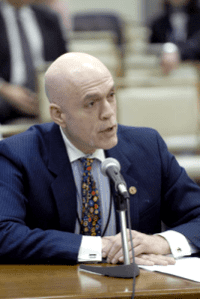 But, despite a raucous crowd and a big-name line-up of speakers including U.S. Sen. Dick Durbin, Gov. Pat Quinn, Attorney General Lisa Madigan and Comptroller Judy Baar Topinka, the proposal appears to remain short of the needed 60 votes to become law.
The measure's chief sponsor, state Rep. Greg Harris, D-Chicago (pictured right), told reporters he has not yet scheduled the measure for a vote during the six-day veto session, which began Tuesday "I hesitate to talk about timing or roll calls," Harris said.
Asked if he was waiting to call the legislation until after the December deadline for candidates to file for the primary election – a move that could appease fence-sitting lawmakers worried about picking up an opponent – Harris said the same excuse could be said of waiting until after the March election to vote.