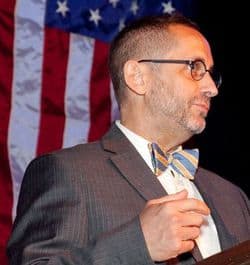 Victor Mendolia and current Mayor William Hallenbeck Jr. are fighting a tough campaign for the mayorship of Hudson, New York, a heavily Democratic city which nonetheless provided the Republcian Hallenbeck a victory during a 2011 campaign.  But according to a post on Mendolia's campaign website, the campaign seem to have taken an ugly turn: 
Bubbling just beneath the surface of this year's campaign for Mayor in Hudson has been Mayor Hallenbeck's surrogates raising questions about my health due to my HIV+ status and trashing me for accessing disability benefits for which I am legally and legitimately qualified. Up until now, I had no indication that the Mayor was actually driving this.
Mendolia goes on to share an excerpt of a letter he received from a worker at Providnce Hall, a center for senior and disabled care:
Just want to let you know that Hallenbeck has told a Schuyler Court resident that you have aids [sic]. The residents at Providence Hall told me he was here last night to speak and told them also that you have aids [sic] and that you are on disability. He also told them since he was a police officer years ago, that he got lots of information on you and that they would be shocked if they knew what you did. So he is spreading this crap. What a jerk he is.
Mendolia is both openly gay and openly HIV-positive.  And in his posting, the mayoral candidate proudly defends his HIV status: 
I do not see my health struggle as a disadvantage. To the contrary, I see it as something which enables me to see more clearly, the obstacles that others face. Hudson is an amalgamation of many things. We are a city facing new prosperity after a long decline. We are a city of rich and poor and of able bodied people along with the elderly, sick and differently abled. That is why I recently joined the board of the AIDS Council of Northeastern NY and why I have met with many of Hudson's service providers in many fields. To better understand what is working for Hudson's residents and what isn't. My experience and my search for solutions gives me insight into the struggles that many people face. Insight which, in my opinion, my opponent does not possess. 
In a statement regarding the incident, Mendolia said, "I am very disheartened to see the Mayor stoop so low. He has little record to stand on, refuses to come before the voters to discuss his agenda in a debate, and now this. It's sad that he would choose this path instead of standing on his record. But he has no plan for Hudson and he is desperate."