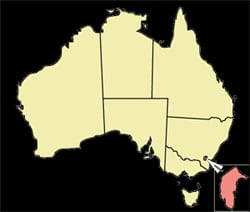 The Australian Capital Territory, essentially Australia's equivalent to Washington DC, has passed a bill legalizing same-sex marriage, the Canberra Times reports:
To thunderous applause from the public gallery, the single-chamber Parliament voted to approve a marriage equality law by eight votes to seven on Tuesday. Under the law, same-sex couples from across Australia will be able to marry in Australia by the end of the year.
The federal government plans to challenge the constitutionality of the bill in the High Court of Australia. Deputy Chief Minister Andrew Barr, who is gay, said the law would help transform many lives and Canberra into a "rainbow territory'' or "city of love''.
More from the paper here.