Baylor University's Student Senate voted on Thursday to pass the Sexual Misconduct Code Non-Discrimination Act, which would remove "homosexual acts" from the Waco, Texas Christian school's "sexual misconduct code", the Baylor Lariat reports: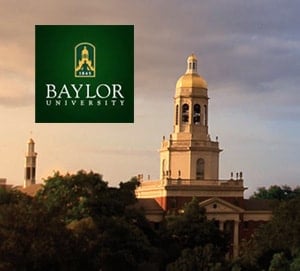 The most recent version of the Sexual Misconduct Code was established on Jan. 15, 2007. It reads, "In all disciplinary procedures, Baylor University will seek to be redemptive in the lives of the individuals involved and to witness to the high moral standards of the Christian faith.
"Baylor will be guided by the understanding that sexuality is a gift from the creator God and that the purposes of this gift include (1) the procreation of human life and (2) the uniting and strengthening of the marital bond in self-giving love. These purposed are to be achieved through heterosexual relationships within marriage. Missuses (sic) of God's gift will be understood to include but not limit to, sexual abuse, sexual harassment, sexual assault, incest, adultery, fornication, and homosexual acts."
A debate was held before the vote took place:
Major points expressed by those in favor of the bill were that the amendment was technical, not theological; the amendment would broaden to all sexual acts outside of marriage regardless of orientation; and the amendment would create a more caring, loving Christian environment.
However, some students expressed their disagreement with the proposal by saying the amendment would alter Baylor's reputation and moral standing as a Christian university and would not affect the environment for homosexuals on campus.
More at the Lariat…