On December 1, Croatia will hold a referendum on constitutionally banning same-sex marriage, Buzzfeed reports: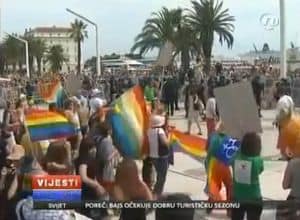 The (parliamentary) commission voted 10-3 to hold a referendum on whether to constitutionally define marriage as being between a man and a woman. Croatia currently has minimal partnership protections in the form of "cohabitation agreements."
The decision comes at an awkward moment for the Balkan country. Croatia officially joined the European Union on July 1, and its LGBTI rights record came under close scrutiny in the lead-up. It was required to adopt a law banning discrimination on the basis of sexual orientation as a condition of EU membership.
News of the vote broke as Croatia was in the midst of hosting a meeting of the International Gay and Lesbian Association's (ILGA) European branch in its capital, Zagreb, gathering 290 LGBTI activists from 40 countries. Top human rights officials from the U.S. and EU also came to lend their support to the conference — though all declined to comment on the proposed marriage amendment, reflecting that even as marriage has become a central plank of an LGBTI rights agenda in their domestic constituencies, it still remains taboo when it comes to international diplomacy.
More at Buzzfeed…