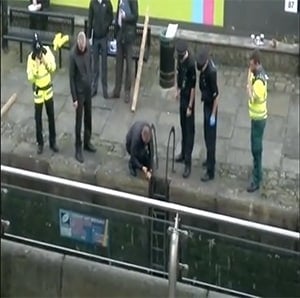 Grim news out of England. A body was discovered Sunday floating in the canal in Manchester's gay village. The Manchester Evening News reports:
Police were called to Canal Street on Sunday afternoon – after a
couple on a barge are believed to have reported seeing a human body in
the water.
Officers dismissed original reports that it was wrapped
in a black bag but said it was too early to say whether the death was
suspicious.
Bob Ramsbottom, 56, landlord of the New Union pub on
Canal Street said: "We were upstairs on Friday night at around 10.30pm
when we heard a very big splash.
"I looked out of the window – we
saw someone walking away over the bridge. In nine years, there has been
quite a few bodies found in this canal."
It is unclear at this time whether the splash Ramsbottom heard is connected to the discovery of the body. Though eyewitnesses claimed the body was in a bag, authorities suggested the bag happened to be floating near the body and had perhaps become tangled with it at the time of its discovery.
Divers were dispatched to retrieve the body and the canal was partially drained. Police are currently performing a postmortem which will help determine the cause of death in addition to how long the body was in the water.