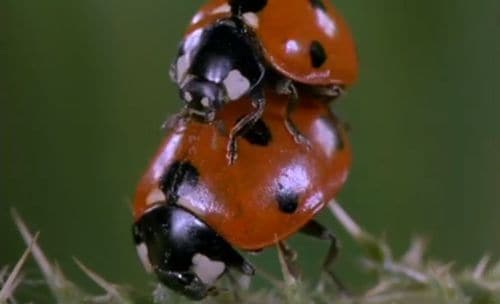 Scientists at Tel Aviv University have been researching the peculiar, but extremely common practice of same-sex mating between insects. The result: bugs are just so excited to procreate that they can't tell the difference before they've mounted each other. There are, it turns out, plenty of factors that go into the randy, six-legged sex-fest, including confusing female pheromones from the bugs' previous mates. Still, some 85% of the insects in the study took part in same-sex mating practices; maybe they're on to something.
Daily Mail reports:
The study found there are no clear benefits for certain species of insects to have same-sex relationships and concluded they may be duped into thinking another is a female, either because of how similar they look or by scents they have picked up. 
Dr Inon Scharf of Tel Aviv University's Department of Zoology and Dr Oliver Martin of ETH Zurich claim mating takes time and energy and can be dangerous, which makes homosexual mating even less appealing from an evolutionary perspective because it lacks the payoff of procreation. 

'Insects and spiders mate quick and dirty,' claimed Dr Scharf. 'The cost of taking the time to identify the gender of mates or the cost of hesitation appears to be greater than the cost of making some mistakes.'
The researchers identify insects' evolutionary flaws as one cause of the phenomenon as well. These bugs are not adept to make cost-benefit analyses, and they are also unable to distinguish between other objects and their own kind. They sometimes "mate with related species or inanimate objects, like beer bottles." The benefits of same-sex coupling, if there are any, remain unclear, but researchers are not done looking into the mating practices of insects.
'Homosexual behaviour may be genomically linked to being more active, a better forager, or a better competitor,' said Dr Scharf. 'So even though misidentifying mates isn't a desirable trait, it's part of a package of traits that leaves the insect better adapted overall.'
To confirm their theory, the researchers plan to study the conditions that make homosexual behaviour more or less likely in bugs. They also want to look more deeply into male resistance to homosexual mating.