As promised, NJ Governor Chris Christie appealed Judge Mary Jacobson's ruling legalizing same-sex marriage in New Jersey to the state's Supreme Court, the AP reports: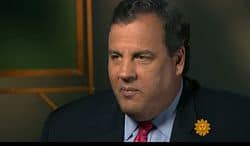 Citing "far-reaching implications," Acting Attorney General John Hoffman made the request in a letter to the state Supreme Court, which usually does not weigh in on cases until after an appeals court has made a ruling on them.
Hoffman said he is also asking the judge who issued the decision Friday to grant a stay, delaying the implementation date from Oct. 21 until the matter can be settled.
Democrats said yesterday at a press conference they would like the high court to act swiftly on the measure.