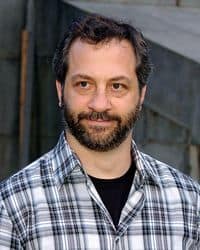 Judd Apatow took to Twitter recently to shame New Jersey Governor Chris Christie because of his latest same-sex marriage evasion. 
The controversy stems from Christie's announcement to appeal a court ruling that ordered the state to allow gay couples to marry.
Tweeted Christie last week:
"Thanks to @bodybyjake & @CoCaColaCo. Together we will make a real difference for many kids in New Jersey."
Tweeted Apatow:
"@GovChristie just not gay kids. You are working hard to make sure they have no rights. Despicable. Catch up already. You look ridiculous."
Later adding:
"@GovChristie lots of politicians have announced that their positions have evolved. Maybe you don't want to be the last person to get it."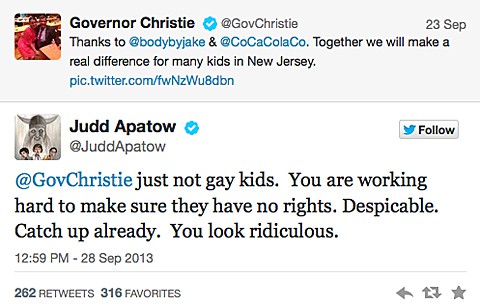 Christie maintains that the only way he'll support same-sex marriage in the state is through a ballot referendum. In 2012 he vetoed a bill passed in the house and senate that would have legalized same-sex marriage. 
*Photo via Flickr by david_shankbone