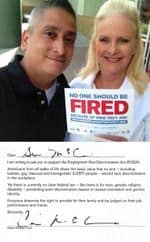 An HRC organizer nabbed Cindy McCain at a Staples in Phoenix, and got her to sign a petition on the Employment Non-Discrimination Act (ENDA), and send it to her husband, the Washington Post reports:
Arizona is a key state, since activists are targeting both McCain and his fellow Republican Sen. Jeff Flake; McCain has opposed the bill in the past, while Flake has not voted on the issue since taking office in January…
…At the moment, it does not appear that Cindy McCain has changed her husband's mind. In an e-mail, McCain's spokesman Brian Rogers wrote, "Senator McCain enjoys and appreciates having discussions on the important issues of the day with all the members of his family, and he respects their views."
Some bigots are really hard to turn.