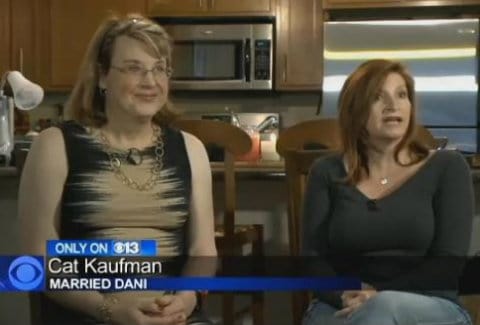 While on a drive four years ago, Cat Kaufman turned to David — her husband of 22 years — and said, "Let's stop and get something to eat. I need to talk to you."
She seemed really nervous. David figured whatever her news had something to do with their 12-year-old son or the fact that she had seemed harder to live with over the past several months.
Finally, after biting her lip for a while, she admitted, "I'm really sorry. I'm realizing I'm a lesbian."
Despite David's love and respect for Cat, he had no clue that she was a lesbian. Sure, their sex life had dwindled over the recent years, but he largely blamed himself. He'd spent days feeling guilty and wondering why, but he didn't know how he'd ever approach Cat about it.
On Cat's end, she never suspected the bombshell David that dropped next: "What?! Get outta town!" he exclaimed. "I just figured out I'm gay!"
They both stared at each other in shocked disbelief. And as they continued talking, they both found themselves speaking happily and laughing at the sheer incredulousness of their situation.
Recounting the 2009 experience, David wrote, "We were both thankful to know that our news was not seen as bad by the other. I recall feeling very relieved."
The CBS affiliate in Sacramento recently reported their story; but David's part doesn't end there…
Continue reading and see their interview AFTER THE JUMP…
Three years later, David realized something else about himself. While he had come out to his wife as a gay man, ever since he was 5 years old he had always felt like a girl. He used to dress in his mom's clothes and had considered suicide when he was 13 because he felt so out of place. He thought that coming out as gay would allow him to act as feminine as he liked. But it wasn't enough.
"The part about being attracted to men was correct," David later realized. "The assumption that I was a man was the error."
After 50 years of living as a man, David began transitioning into a woman and renamed himself Danielle.
"Inside he's the same person that I married…" Cat told CBS News. "Just the outside has changed."
"It felt so good to be me," Danielle said. "It felt so good to be a woman, to be Danielle. This is incredibly cool."
The two are still married and live just a few minutes from one another. Danielle eventually wrote a book about his experience called Untying The Knot: A Husband And Wife's Story Of Coming Out Together. She also write articles about trans issues for The Huffington Post.