A federal judge in Harrisonburg, Virginia heard arguments yesterday on the certification of a class action suit challenging the state's ban on same-sex marriage, the AP reports: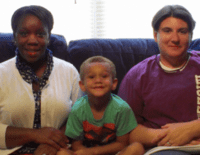 U.S. District Judge Michael Urbanski heard arguments Tuesday. According to court records and the ACLU of Virginia, which is representing the plaintiffs, he did not immediately rule.
He also took under advisement motions to dismiss Gov. Bob McDonnell and Staunton Circuit Court Clerk Thomas E. Roberts as defendants. The other defendant is Janet Rainey, the state registrar of vital records.
The lawsuit, which is one of two high-profile marriage cases in Virginia, was filed on August 1. The other case was filed by the American Foundation for Equal Rights, which recently took the Prop. 8 case to the Supreme Court.