In a new interview with Out Magazine, Josh Hutcherson, who stars as Peeta in The Hunger Games, made an interesting claim about his sexuality. Instead of opting for a definitive statement of heterosexuality, the handsome twenty-one year old came out with something a little more nuanced.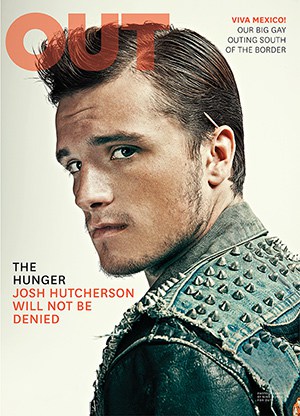 Out Magazine reports:
We've barely started lunch, and I'm nowhere near my usual open-ended sexuality question, when Josh Hutcherson offers this: "I would probably list myself as mostly straight."
That "mostly" is what makes Hutcherson winningly uninhibited, but also typical of his generation. New research published in The New York Times in 2010 shows that an increasing number of guys his age identify as "mostly straight," and Hutcherson's ease in embracing ambiguity over neat and secure boxes speaks to his self-assurance.
"Maybe I could say right now I'm 100% straight," he says. "But who knows? In a fucking year, I could meet a guy and be like, Whoa, I'm attracted to this person."
Hutcherson grew up in Union, Ky., a small town close to the Ohio border, and his slouchy, chill California vibe is still tinged with a soft Southern accent. Everything he says sounds easygoing. "I've met guys all the time that I'm like, Damn, that's a good-looking guy, you know?" he says. "I've never been, like, Oh, I want to kiss that guy. I really love women. But I think defining yourself as 100% anything is kind of near-sighted and close-minded."
Of course, Hutcherson is also an ally to the LGBT community and has been for some time. He co-founded the Straight but Not Narrow campaign which encourages other heterosexual youngsters to stand up in support of their gay peers. It is certainly nice to have a youthful Hollywood star in our court–perhaps one day he'll even play for our team.
Read all about Josh's Hunger Games role, his family's gay legacy, and more about Straight but Not Narrow at out.com.
(Photo by Nino Muñoz for Out)