Ghanaian President John Dramani Mahama paid a visit to Kennesaw State University for the school's final portion of its year long study of the Republic of Ghana. The Year of Ghana marked the 29th annual country study for the University; next year, Japan.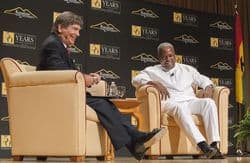 In his discussion with University president Dan Papp, Mahama was cagey regarding his opinions on same-sex marriage, opting to discuss the Ghanaian public's feelings on the matter.  Earlier this year, however, Towleroad reported on his more staunchly anti-gay stance: "Homosexual conduct which is unnatural carnal knowledge of one person or another is criminal and punishable by the laws of Ghana."
The Marietta Daily Journal reports:
Mahama was asked on Monday whether he supported gay rights in Ghana, specifically gay marriage. 
"Well, like you're saying, even here the question is not settled," Mahama said, referring to how some states in the U.S. allow gay marriage and some do not. "It's controversial. And it's the same, it's controversial everywhere else, especially in Africa. It's a difficult situation, but I guess it's something that –– it's very difficult to comment on because often it creates more problems. People have a certain cultural hostility towards it, but I believe that laws must prevail. For instance, people must not be beaten or killed because of their sexual orientation, but in my country there is a strong cultural hostility towards it."
Mahama laughed when asked if he would support gay marriage in Ghana in the future. 
"It's very difficult for me to … I'd rather not comment on it," he said. 
Mahama's visit to the University marks the first time the school has hosted a current head of state.