Kentucky Attorney General Clay Barkley has come out in favor of the state's same-sex marriage ban.  Adopted in 2004, the ban contains language similar to other states' constitutional amendments: "Only a marriage between one man and one woman shall be valid or recognized as a marriage in Kentucky." The ban also denies recognition of legal unions performed in other countries and states. Now, though, a couple married nine years ago in Canada is challenging the ban.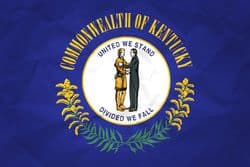 Michael De Leon and Gregory Bourke sued the state in July. They are seeking an injunction in order to fight the lack of recognition granted to same-sex couples married outside the state or country. Barkley filed an 18-page report to the federal court's District Judge John G. Heybrun II claiming that the lawsuit lacks standing. De Leon and Brouke's challenge marks the state's first since the DOMA and Prop 8 decisions were handed down this summer.  
The Associated Press reports:
Much of the state's filing is boilerplate legal language. But, Barkley said same-sex couples seeking to marry "are just as willing as opposite-sex couples to assume the obligations of marriage" and, if allowed to marry, would "benefit equally from the legal protections and social recognition afforded to married couples."
While Kentucky judges have granted adoptions to same-sex couples, the state treats them differently than opposite-sex couples by not allowing both partners to be listed as parents, Barkley said. According to the 2010 Census, about 2,800 same-sex couples are raising children in Kentucky. De Leon is the father of an adopted 15-year-old boy and 14-year-old girl. Bourke has been designated a legal guardian for the children.
This challenge to state law follows similar ones in Arkansas, New Mexico, and Pennsylvania. New Mexico has been handling things county by county and Arkansas has accepted language for a ballot measure in 2014. What will come of the Kentucky challenge? Do you think there will be a statewide rally behind De Leon and Bourke?