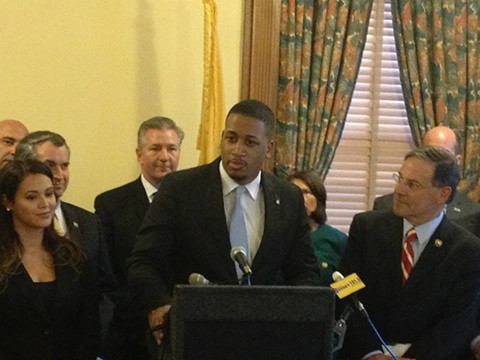 John Campbell Jr., a Republican running for New Jersey's General Assembly representing the 22nd District, has come under fire for his homophobic actions while he was in high school. After he announced his candidacy on social media, he received a less than favorable post from a former classmate, Raphael Eidus, who claims the now twenty-three year old targeted him while they were in high school together because Raphael is bisexual. PolitickerNJ reports:
"Mr. Campbell is a homophobe," Eidus wrote of the Republican
businessman from Plainfield. "I went to high-school with John in Edison
NJ (the Wardlaw-Hartridge School). In our senior year I came out of the
closet as bisexual. At this point John began harassing me and even led a
group of his friends to harass me at every possible chance. He even
went out of his way to make sure that I suffered on a daily basis."
Campbell was captain of the tennis team.
"Before
I came out every practice began with a stretch with our coach then the
team would jog around the school led by the team captain John," Eidus
claimed. "After I came out, halfway through the jog, John stopped the
team for a second stretch so that, out of the eyes of any faculty, he
could lead his friends in homophobic taunts and even some minor physical
assaults on me. To clarify the physical assaults were throwing tennis
balls at me and making comments along the lines of "he likes balls in
his face". This is minor and no physical damage was done, only mental."
Eidus
wrote that if he did not go on the team jog, he would be kicked off the
team, and claims Campbell made sure that he had to endure the
punishment every day simply because he wasn't straight.
"At the
time John was 18. Since then multiple of the student[s] who harassed me
reached out and apologized, John never did," Eidus wrote.
When asked to respond to Eidus's allegation, Campbell's response was only to say that he did not remember the incident in question:
"I'm being asked to recall something that happened when I was in high
school, seven-eight years ago," said the Republican candidate. "I don't
remember the incident.  As captain of the tennis team, I was expected
to exhibit leadership at all times.  If I made anyone feel as if they
were less than at any point and didn't step up as a leader, I
apologize."
Asked to comment on the response, Eidus objected to
Campbell's recollection of the time frame, claiming it happened five
years ago, but added no further elucidation of the event he alleged
occurred.
(Photo via Facebook)