With speculation continuing to mount over how Russia's anti-gay laws will impact the Olympic games at Sochi, now less than 100 days away, and how authorities will respond to any signs of protest or advocacy in support of LGBT rights, the Russian LGBT Sports Federation has announced it will be hosting a gay-friendly "Open Games" in Moscow just three days after the Sochi Olympics end, according to The New York Times. The games "will be for athletes of any orientation and will consist of eight events, including basketball, badminton, swimming and indoor soccer."
Viktor Romanov, chairman of the board for the Russian LGBT Sports Federation, says he is unsure how the government will interpret their event, either as being benign or potentially as propagandizing a non-traditional sexual orientation:
"I'm not afraid…I'm apprehensive. We don't know how the government will take this."
Sport, Mr. Romanov believes, will be the perfect cover for gay men and lesbians to gather […]
"By developing L.G.B.T. sport, we can improve the standing of the L.G.B.T. community in our country," Mr. Romanov said.
"Our society has a very one-sided image of gays. People don't understand that anyone could be gay. Your boss could be gay; any good, normal person could be gay."
By and large the federation has flown under the radar of the Russian government, neither receiving its approval nor its wrath. Though the origanization is officially registered with the Ministry of Sport it is not recognized. The federation was also denied funding for the Open Games by the Kremlin, which reportedly invested $50 billion into Sochi.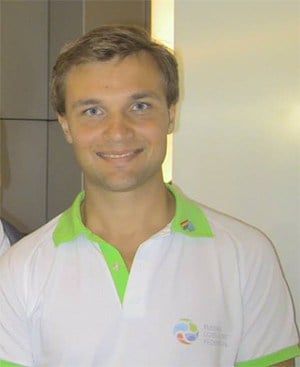 Konstantin Yablotskiy (pictured right), a figure skater and president of the organization added:
"Sport is a universal instrument to solve many different problems…For some, like me, it makes it possible to forget about everything. When I skate, I only think about music and movement, and that's wonderful, especially now" […]
"No one knows where the lines are now…In 2012, after these laws were passed in St. Petersburg, we held a sports festival there. We all painted rainbows on our cheeks, walked around the city and rode the metro. Children saw us, but no one said anything. Was that 'propaganda?' "
Still, there's no doubt that the passage of the anti-gay propaganda law in June has had far-reaching ramifications, even touching the federation as The Times points out:
After the passage of the homosexual propaganda law, the group's leadership temporarily moved into clandestine mode, making its events more secretive. They now send details about the timing and location of meetings only to confirmed members. But they plan to use the Olympics to reassert themselves publicly, the leaders say.
"It's somewhat good that there's a place where people can be themselves," Igor Kochetkov, the chairman of the Russian L.G.B.T. Network, a human rights group, said. "But it's a ghetto."