Hawaii's Senate Judiciary and Labor Committee voted late last night to advance the marriage equality bill, the Star Advertiser reports: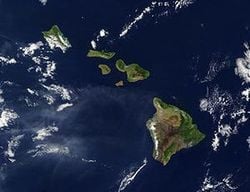 The 5-to-2 vote came after the debate over marriage equality engulfed the state Capitol during the first day of a special legislative session called by Gov. Neil Abercrombie.
"It's historic in the sense that there's a huge paradigm shift, but it's a shift that, in my opinion, bends the arc of justice towards the right way," Sen. Clayton Hee (D, Heeia-Laie-Waialua), the committee's chairman, said after the vote. "It takes us to a new level of equal rights."
The measure now heads to the full Senate, where approval is expected. Then on to the House Judiciary and Finance Committees, which have scheduled a 10 am hearing on Thursday. The full House will get the bill after that.
As we reported yesterday, the votes are reportedly there to pass the bill in the House.