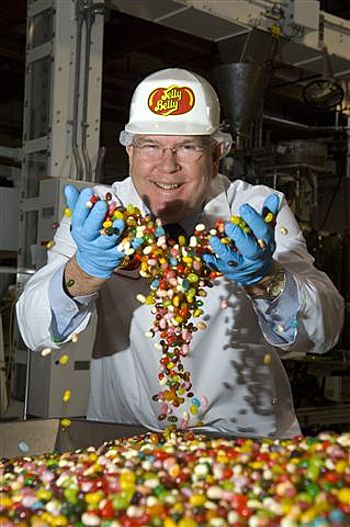 The
Chair of the Jelly Belly Candy Company, Herman Rowland, Sr., has
donated thousands of dollars to the anti-LGBT 'Privacy for All Students'
initiative campaign, which is working against legislation California Governor Jerry Brown signed in August protecting transgender students.
Writes Karen Ocamb at Frontiers:
Herman
Rowland Sr., Chair of the Jelly Belly Candy Company, is a major
contributor to the Privacy for All Students initiative campaign—led by
Prop. 8 strategist Frank Schubert, who is now the political director for
the National Organization for Marriage. Just as he did with the
misrepresentations and scare tactics of the Prop. 8 campaign, Schubert
is trying to collect enough signatures to put an initiative on the 2014
ballot to repeal the historic "School Success and Opportunity Act, " AB
1266, authored by out Assemblymember Tom Ammiano. The transgender
student law goes into effect on Jan. 1, unless the measure qualifies,
which would put the law on hold.
Rowland, Sr. made a $5,000 donation to the effort.
Ocamb adds:
You
might remember that Jelly Belly disavowed any anti-gay attitudes in
2010 when the sad NOM-back Latino tour bus (tracked by the Courage
Campaign) tried to pay a visit. Instead of a warm welcome, Jelly Belly
Consumer Affairs Manager Kit McCoy said they were unaware of being a
highlighted stop on NOM's itinerary. "Jelly Belly does not allow any
group to promote their special interests, pass out flyers or approach
our visitors for their own interests at our public tours," McCoy said.
Change.org is running a petition calling on Rowland Sr. to stop hurting transgender children.