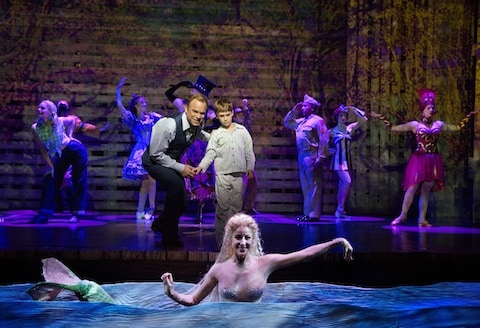 BY NAVEEN KUMAR
Big Fish, an
ambitious and touching new musical based on Daniel Wallace's novel of the same
name and John August's screenplay for Tim Burton's acclaimed film, opened on
Broadway October 6th at the Neil Simon Theatre. Directed and
choreographed by Susan Stroman (The Producers),
with book by screenwriter August (Big
Fish, Go) and music and lyrics by Andrew Lippa (The Addams Family), the musical tells a moving story of a son
seeking the truth about his father, though without quite the coherency and visual
mastery of a Burton movie.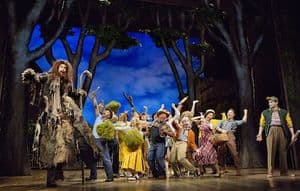 Norbert Leo Butz (Dirty
Rotten Scoundrels), leads the cast in a characteristically powerhouse
performance as Edward Bloom, the father with a head full of fantastical stories
about his life's adventures. The show opens on his son Will's wedding day at
the family's Alabama home, with Will (Bobby Steggert) begging his dad to keep
quiet at the reception (no dice). A rift forms between father and son, but when
they learn Edward is dying of cancer, Will and his wife Josephine (Krystal Joy
Brown) return from New York to be by his side.
Prompted by his dad's illness and his own impending
fatherhood, Will sets out to learn the truth behind Edward's many elaborate
stories in an effort to know the man before he dies. Present day scenes are
intercut with flashbacks of Edward at story time with his young son,
encouraging him to be a hero and make life into an adventure. The stories
unfold in colorful production numbers and scenes much like fairytales—with a
witch, a mermaid, a friendly giant, and a werewolf circus master among others
in supporting roles.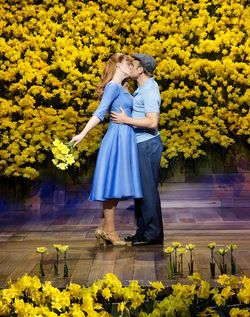 Talent runs in the onstage family, with both Steggert and
Kate Baldwin as Edward's wife Sandra delivering polished and emotionally
resonant vocal performances. August does a fine job of adapting the story for
the stage, paring back and reworking some of the movie's more complex elements,
whittling it down to manageable size. Yet while Edward's stories soar to some
imaginative heights, Lippa's score rarely lifts off to match. However
wonderfully performed by a cast of theatre pros, the show's music feels less
original than the story it's trying to tell.
Director-choreographer Stroman pulls off the weighty task of
mounting a new musical from (somewhat) familiar material, though perhaps without
quite the flourish and precision for which she's previously been celebrated—for
her work on commercial mega-hit The
Producers and critical darling The
Scottsboro Boys.
In what often feels like a collage of loosely connected
parables and tall tales, the father-son story at its center holds this Big Fish together. Whether it's enough
to hold audience attention through a somewhat mixed bag of episodic numbers remains open to
question. 
Recent theatre features…