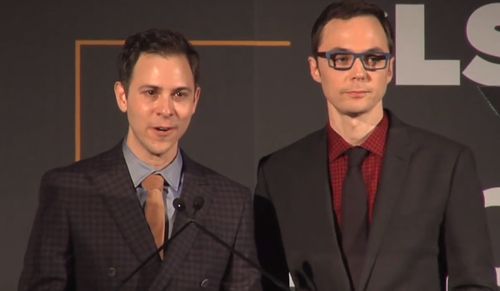 Big Bang Theory actor and Emmy-winner Jim Parsons and his longtime partner, graphic designer Todd Spiewak, went public this weekend for a GLSEN (Gay, Lesbian, and Straight Education Network) award ceremony. The two won the organization's Inspiration Award, and they walked the red carpet together for the first time. Parsons has thanked Spiewak in speeches at other awards shows, but they have never made such a public appearance.
The two men were classy and humble as they discussed their relationship, their dogs, and the true activists of the LGBTQ community. The award was presented to them by Mayim Bialik, Parson's Big Bang co-star.  
E! Online reports:
On stage, Parsons said the true inspirations of the world are people like GLSEN's student ambassadors and writer and gay activist Larry Kramer…
"I've never considered myself an activist," Parsons said. "I've never considered my relationship with Todd to be an act of activism. Rather simply, it's an act of love, coffee in the morning, going to work, washing the clothes, taking the dogs [out]—a regular life, boring love.
Parsons corrected himself, saying that even if the award is simply a display of he and Todd's inspiration to others, they would be nowhere without their friends and family.  
"…We are both surrounded by so many people who make our lives better and easier, friends we've had for many years and friends we've made since living in L.A."
In the audience were Spiewak's parents, who Parsons thanked "for being such an important part of our lives—and our dog's lives."
Congratulations to Jim and Todd!  
Lionsgate Studios (which produces The Hunger Games) and Designing Women creator Linda Bloodworth-Thomason were also honored at the GLSEN ceremony.  
Watch the couple's funny, self-effacing, and touching speech, AFTER THE JUMP…