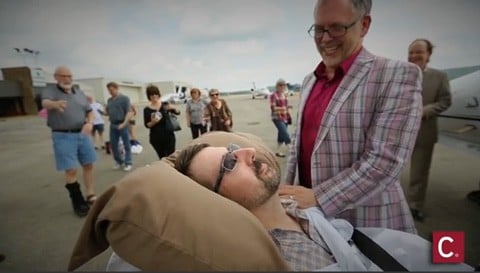 John Arthur, who in July flew to Maryland with his partner of 20 years, Jim Obergfell, so that they could marry on the airport tarmac before Arthur's ALS, a progressive neurological disease that robs patients of their ability to walk, talk and eventually breathe, became too difficult, has died, Cincinatti.com reports.
Mr. Arthur was diagnosed with amyotrophic lateral sclerosis in 2011, and his terminal illness played a prominent role in the couple's decision to marry and in the ensuing legal battle. He and Obergefell had been a couple since 1992 but decided to marry after the U.S. Supreme Court's June 26 decision striking down portions of the federal Defense of Marriage Act.
Following their marriage, they decided to file a lawsuit challenging Ohio's same-sex marriage ban.
A few days after their wedding the couple were contacted by civil-rights attorney Al Gerhardstein, who had been working on challenges to Ohio's marriage ban. Several days later they filed a lawsuit in federal court in Cincinnati against the state and the city of Cincinnati, claiming that failure to recognize their marriage violated the equal protection clause of the U.S. Constitution, because Ohio recognized other marriages performed outside the state that Ohio itself banned, such as marriages between first cousins or minors.
Mr. Arthur's terminal illness allowed the case to move more quickly through the court. It also allowed Gerhardstein to argue that the couple would face "irreparable harm" if Mr. Arthur was listed as single on his death certificate. Additionally, Mr. Arthur's family plot at Spring Grove Cemetery is limited to direct descendants and their spouses, so the question of recognizing their marriage also was likely to influence where he was buried and whether his partner could someday be buried next to him.
In July, Federal Judge Timothy Black issued a temporary order requiring that Arthur be listed as married on his death certificate and Obergefell be named his surviving spouse.
Arthur was 48 years old. Our thoughts go out to Jim Obergfell, and their friends and family, and we thank Arthur for his courage.
Watch the inspiring story of their wedding (autoplay), AFTER THE JUMP…