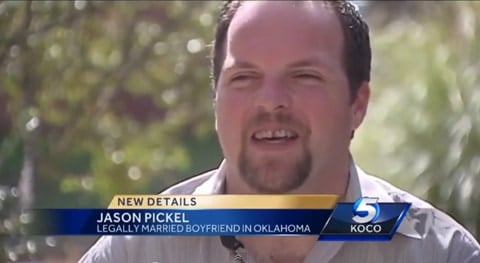 Jason Pickel and Darren Black Bear are the first gay couple married legally in the state of Oklahoma, KOCO reports: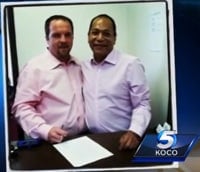 "That's the biggest trip I've had so far," said Pickel. "I'm not even sure how to even react.  I'm very excited about getting married.  It's been eight and a half years."
For the past five years, Jason's wanted to marry boyfriend Darren Black Bear. The two even planned a trip to Iowa, a state that recognizes same-sex marriage. But when the Supreme Court struck down the Defense of Marriage Act last June, Pickel had an idea. He called the Cheyenne and Arapaho Tribe's courthouse and asked a simple question.
"I was really expecting a big no," said Pickel. "I thought we're on our way to Iowa, but I called the tribe and they said, 'Yeah come on down, it's twenty bucks.'"
Twenty dollars for what no amount of money could buy in Oklahoma — a marriage license made legal by the tribal code. Its requirements, both people be of Native American descent and live within the tribe's jurisdiction. Nowhere does it specify gender.
Watch, AFTER THE JUMP…