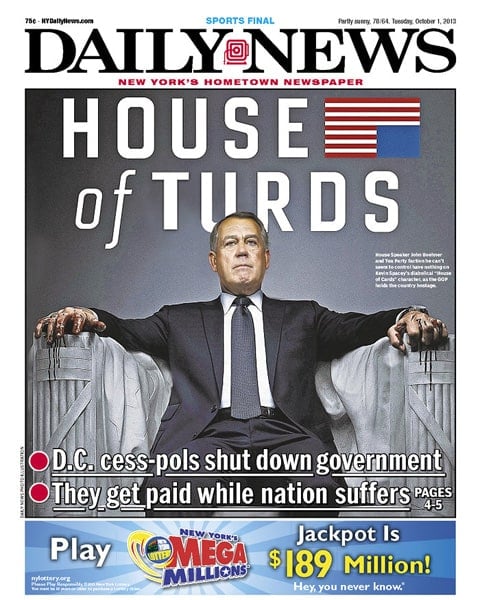 The first shutdown of the governement in 17 years began on Tuesday, the NYDN reports:
Senate Majority Leader Harry Reid (D-Nev.) disclosed at midnight that the White House budget office had directed agencies to start closing up shop. He then called a recess until 9:30 a.m., meaning that there would be no House-Senate deal in the wee hours Tuesday.
The shutdown would keep 800,000 federal workers at home on Tuesday and inconvenience millions of people who rely on federal services or are drawn to the nation's parks and other attractions. Critical workers, from the Border Patrol to air-traffic controllers, would remain on the job, unpaid.
Legislation was passed, however, to fund the armed services during the shutdown.
Despite the drama, members of Congress faced no threat to their own pay, because the 27th Amendment to the Constitution bars their salaries from being subjected to the annual appropriations process. Obama, too, will still be paid.
Obama blasted House Republicans in a speech yesterday, saying, "One faction of one party in one house of Congress in one branch of government doesn't get to shut down the entire government just to refight the results of an election. You don't get to extract a ransom for doing your job, for doing what you're supposed to be doing anyway, or just because there's a law there that you don't like."