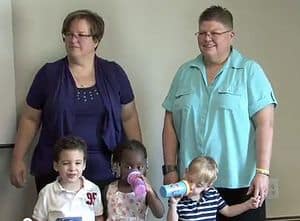 A challenge to Michigan's ban on same-sex marriage will proceed to trial beginning on February 25, U.S. District Judge Bernard Friedman said today after an hour of arguments from both sides. The judge was expected to rule in the case today.
The Detroit Free Press reports:
"I have to decide this as a matter of law," said Friedman, who in June refused to toss out a lesbian couple's lawsuit challenging the state's ban on adoption by unmarried couples and cited the June U.S. Supreme Court decision that recognized legally married gay couples.
"I intend to do so."
In the lead up to today's hearing, Friedman had been expected to decide on the constitutionality of Michigan's ban on gay marriage and determine whether the state is unlawfully discriminating against two nurses who want to get married and adopt each others' children.
Read the Detroit Free Press's live blog of the arguments here.
Developing…