Just last week, Democratic gubernatorial candidate Barbara Buono took sitting governor Chris Christie to task on his same-sex marriage views. Yesterday the subject was broached again, this time in the second and final debate between the two candidates. Christie took on Buono's personalization of gay rights (her daughter is openly gay), applying it to his own family. The results were mixed.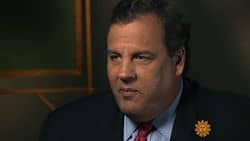 Politico reports
Republican Gov. Chris Christie said Tuesday that if one of his four children came out as gay, he would "grab them and hug them and tell them I love them.
"He would also tell them "that Dad believes that marriage is between one man and one woman," he said.
…
"My children understand that there are going to be differences of opinion in our house and in houses all across this state and across this country," Christie said. He said he would respect voters if they approved gay marriage, but said the decision does not belong to the courts or the legislature.
Governor Christie's new statement seemed aimed at displaying his human and emotional side while maintaining the conservative values he has upheld repeatedly around this topic. It did not, however, seem to take into account how a child may actually feel should their parents not support them or their desire to marry. 
Will this debate impact Christie's campaign? A recent Monmouth University poll places Christie ahead of Buono by 24 points. The chances are looking slim, but perhaps we will see some shift.